Posted on
By Valérie Debucke

NIEUW: PRIVATE SHOPPING!
Vanaf nu kan je je favoriete collecties gewoon lekker op afspraak komen passen in onze showroom! Wij (Petra of Valérie) maken je met plezier wegwijs in ons aanbod, in alle rust, onder het genot van een bakje koffie (of thee, of whatever, je snapt het idee wel). Parkeerplaats voor de deur, geen gedrum, no stress, heerlijk toch?
'DE MAX!' denk je nu, 'maar hoe moet dat dan in z'n werk gaan?' Wel, eerst maak je een verlanglijstje via onze webshop zodat wij weten welke items je (kids) graag wil(len) passen. Deze hangen wij dan voor je klaar. Een verlanglijstje maak je zo: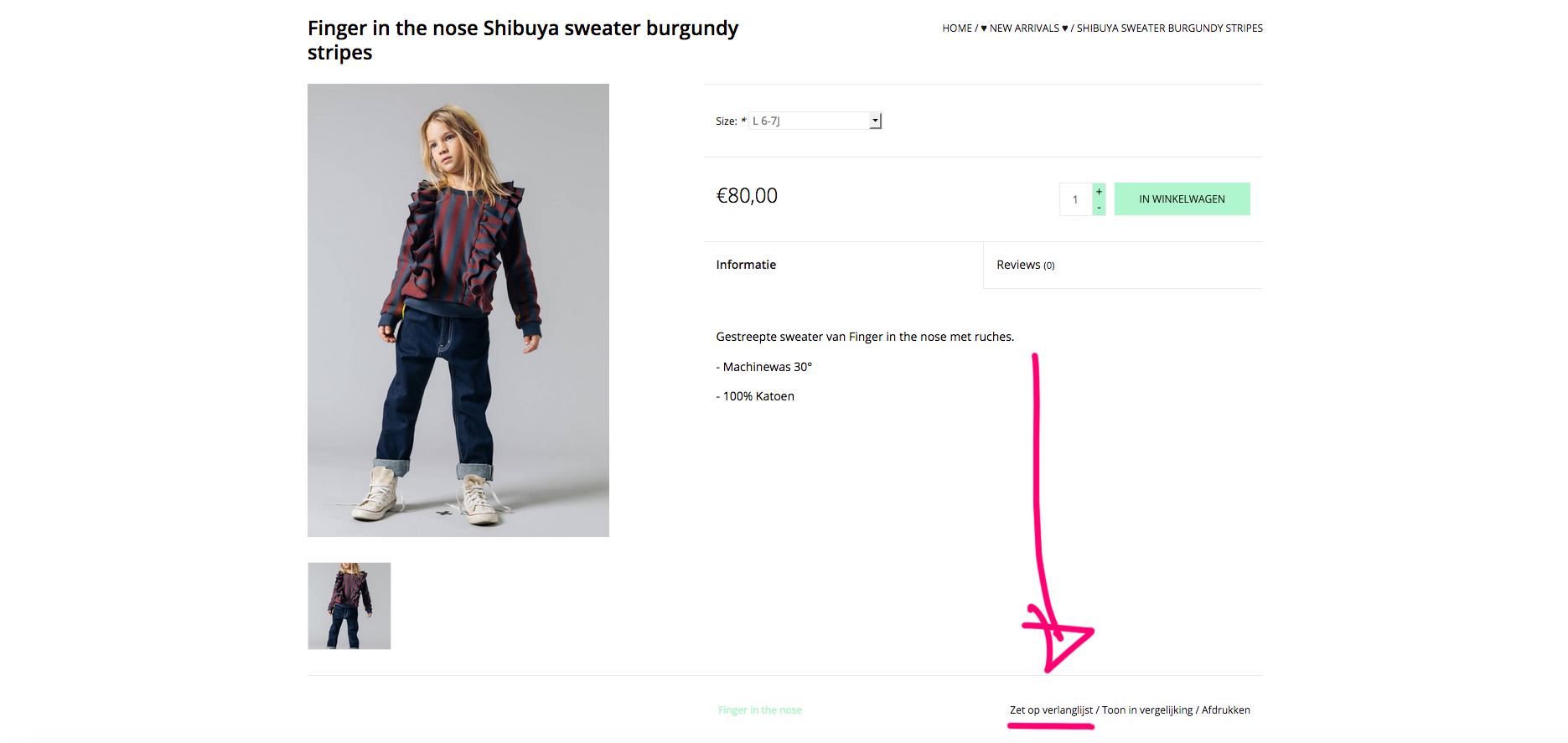 EUH, bovenstaand beeld zegt me hoegenaamd niets en ik ben een verlanglijstjes-dummie. Hebben we alle begrip voor, vermeld dan wat we voor je mogen klaarhangen in je mailtje (zie verder).
Nog niet echt iets concreet op het oog? No problemo. Stuur ons dan zeker de gewenste kledingmaat door, en geef ons een idee van waar je naar op zoek bent, dan maken wij alvast een leuke selectie voor jou.
Handig om weten! Er is GEEN aankoopverplichting, maar indien je toch tot de aankoop zou overgaan: betalen kan cash of met Bancontact.
Hoe maak ik een afspraak? Bel naar 0497 21 76 18 (Valérie) of stuur ons een mailtje met dag en uur waarop je graag een afspraak wil, en wij koppelen zo snel mogelijk naar je terug!
Ook wel handig om weten! Onze showroom bevindt zich in de Kerkkouterrede 46A te Destelbergen (bij Gent).

We kijken er al naar uit jullie te ontmoeten!
Liefs,
Het MAD&MOISELLE team
Valérie & Petra